Denis Kevans
Rhyming Verse of Denis Kevans
Australia's Poet Lorikeet
new release book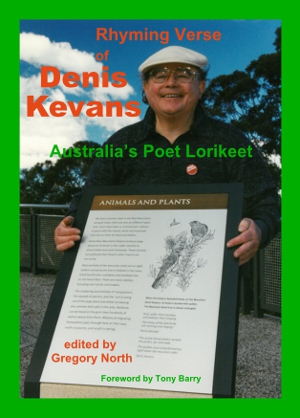 Buy book now
using Credit card or PayPal.
Denis Kevans was a writer of poems and songs for over 50 years. With a combination of powerful performance skills, comic irreverence, a strong environmental and social conscience and a great gift for creating vivid imagery and emotion, Denis was an awesome package.

This book showcases just part of his immense body of work, that of his rhyming verse. It contains over 650 poems and songs including his most popular ones, such as:

When Monkeys Rode the Greyhounds Round the Track at Harold Park
Ah, Brother, Have You Any Sacred Sites?
Hey, Banjo, Have You Heard, Mate?
The Beauty of the World
The Greatest Kick of All
The Slouch of Vietnam
The Anzacís Incense
Century of the Child
Southern Melody
The Ventriloquist, and so many more.
From rollicking humorous tales to scathing political satire to heartfelt expressions of beauty and love, this collection has something for everyone. The work of Australiaís Poet Lorikeet still resonates with all the fun, emotion and poignancy of its first rendition.

The Book size is 214 x 280 mm x 26 mm thick. There are 344 pages including an alphabetical index plus a full contents listing. It contains over 650 poems and it weighs about 1.1 kg.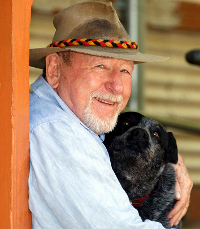 The foreword is written by Tony Barry. Tony is and self-described actorvist and an ardent fan of the work of Denis Kevans. He has kindly written the foreword for this collection. A stage and screen actor for over forty years, Tony also encourages self-expression that contributes to the world. Working with a variety of artists and the disadvantaged, he works to advance social and political justice.